My profile rewrite and editing service involves reviewing the four main components of your profile and recommending on how to improve their effectiveness. I will provide you with drafts you can copy and paste into your profile and recommendaitons on these four areas:
Handle

Greeting

Write-up

Photos
​
Your AM profile is your dating resume. It should give her an idea of who you are, what you're looking for, and what you look like.
I recieved this message from a client a week after I edited his profile. He also bought my messaging guide, so it seems like a winning combo!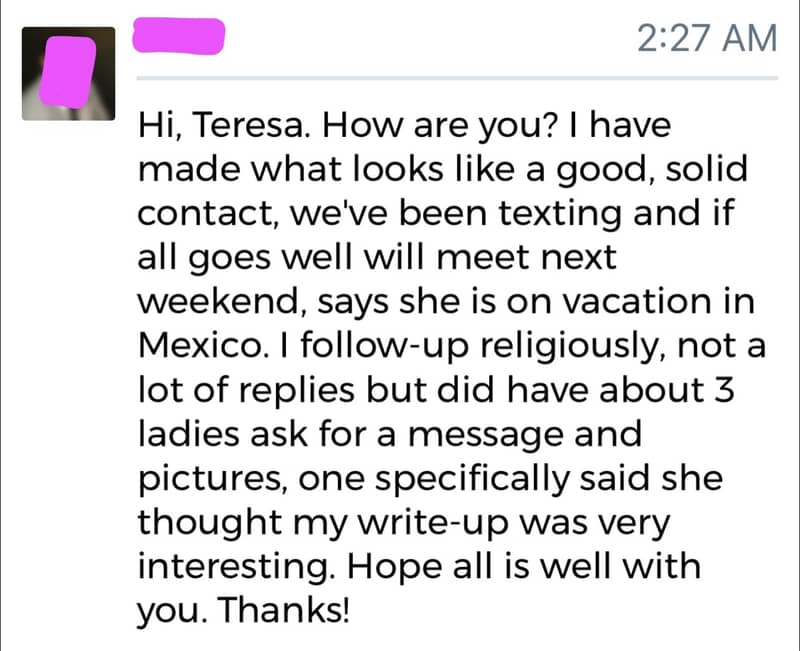 Ideally, it will leave her with a smile on her face and a positive feeling about you. This is from a client email -
So I just had another first on AM, and this was 100% because of you, so thought I'd share. You know after you reload credits, AM gives you 30 days of free member initiated contact, well I'm in that free period right now and just received my first unsolicited contact from a woman. She said after reading my profile she giggled so hard she had to message me. It was a sincere, funny, and well written OM on her part too. Almost not sure if she isn't a client of yours too, lol. Just more evidence your style works. Thanks. -K
Most men don't know where to start, and it shows in their profiles.
Don't be one of them!